I know that all the American ppl like pizza, but not only that, GRILLED CHEESE SAMMICH is also very popular, I feel.

I joined the Grilled Cheese Invitational w/my friends, Yuka, Rhea, and Mia, last Saturday as competitors (as I mentioned last post). Grilled cheese is very simple and easy to cook, so that the idea was important to win.

Yuka, my corworker, is very good cook, her idea was putting ground pork and beef w/curry powder inside. for sweetness, she put raisins little bit and burn almost like deep-frying w/lots of batter and panko.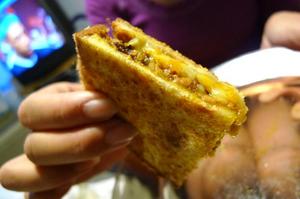 It's delicious.....mmm..yummy..

We didn't get any price this time, but just being there was totally fun. maybe next year?...we will win! but I don't want to eat any grilled cheese sammich for a while. LOL