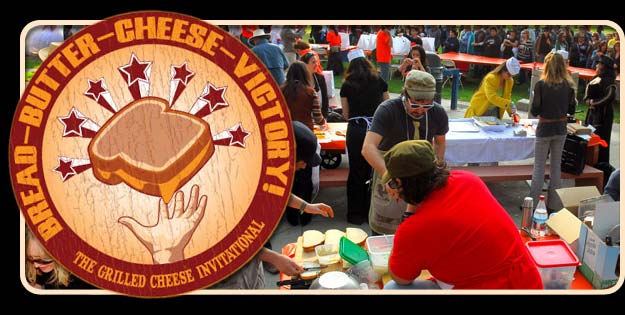 The Invitational lands in downtown Los Angeles, CA on April 25, 2009!
(LOCATION TO BE ANNOUNCED ON APRIL 20, 2009)
Doors open at 12:00pm
Competition from 1:00pm - 5:00pm
Admission Fee: $5
Competition Fee: $10
I am joining the event above as a competition's assistant.
our category:
The Kama Sutra
The Kama Sutra sammich is any grilled cheese that is made with exotic bread or contains any other ingredients than the above mentioned.
The only rules to the Kama Sutra sammich are as follows: The sammich MUST be grilled and the internal ingredients must be at least 60% CHEESE. Other than that, this is a freestyle category, so go for it. This is where you can create any savory flavor concept your twisted mind will allow, so long as the internal ingredients are at least 60% cheese.
The Kama Sutra category is not only the most liberal, but also the most popular. So you must keep in mind that the competition is fierce and professional. You could be up against as many as 50 professional chefs, so you better get it right!
mm....sounds hard, but challenging. anybody give us a good idea?