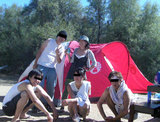 i went camping to Kern River on last weekends with S,T, M and sho-chan.
i bought a tent, a sleeping bag and even a ramp for that. yes, i was so ready to camp!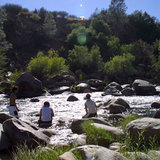 we were planning to go to big bear camping place, but all reservations were taken, then sho-chan found "kern river camping" instead. the camp site was so much nicer than i expected! the river's water was so clear, made us to swim.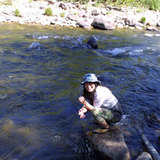 you can not only fishing also a lots of thing. it locates near sequoia: kern river. 3hours driving from LA. but we took more than that because how the google map said was wrong...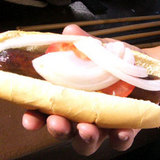 we all are japanese so that, of course, took japanese style of food and ate curry. (i donno why japanese people often eat curry rice when they go camping. maybe super easy to make, that's why.)

what bout fishing..? we got NO fish! suppose to get trouts tho...i guess because we had fun with swimming more than fishing. hahaha
the camp ranger said ''more fish upper course of a river." we should have gone up the river. but it's ok! even if no fish are caught, fishing is fun!

ahhh i wanna go again then spend more time!!!