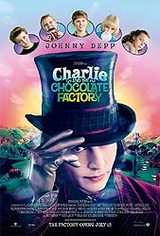 august 12, i watched the movie, charlie and the chocolate factory. frankly, i didn't like the movie even thought i like tim burton and joenny depp. the reason why i didn't like so much is, i guess, i don't like movies which have dancing scenes(that indicates little scared face guys). also, i expected too much that the movie was gonna be cool if the director was tim burton and the joenny depp acted. oh, well.. too bad for me and i give thumb down, sorry!!

one funny thing is that i felt the sense of humor was quite similar to the recent japanese cartoon(not the famous one). i can't explain how the humors are different from where used to be, but i am wondering there is no wide difference between japanese humor and american one. if people whose mother language is english like this movie's humors.

btw, even thought i didn't like the movie, i love the joenny depp's michael jackson like acting. still i think he is a good actor.